Stark Varg - Why the world's best dirt bike is electric
23 Oct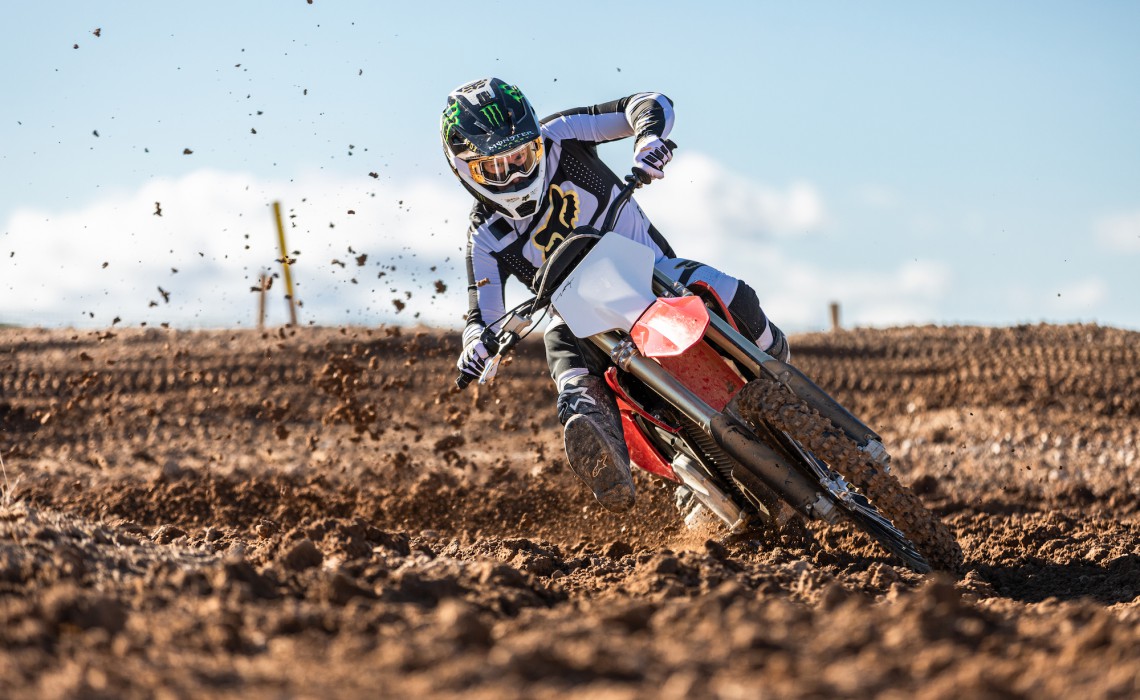 Posted By
0 Comment(s)
629 View(s)
News
After several years of frenzied social media publicity, the Stark Varg started shipping to customers and dealers in September 2023. Few products meet the expectations set by the pre-launch hype, but to exceed those expectations is pretty special. From our assessment of the Varg, the team of visionaries and engineers at Stark appear to have pulled off just that.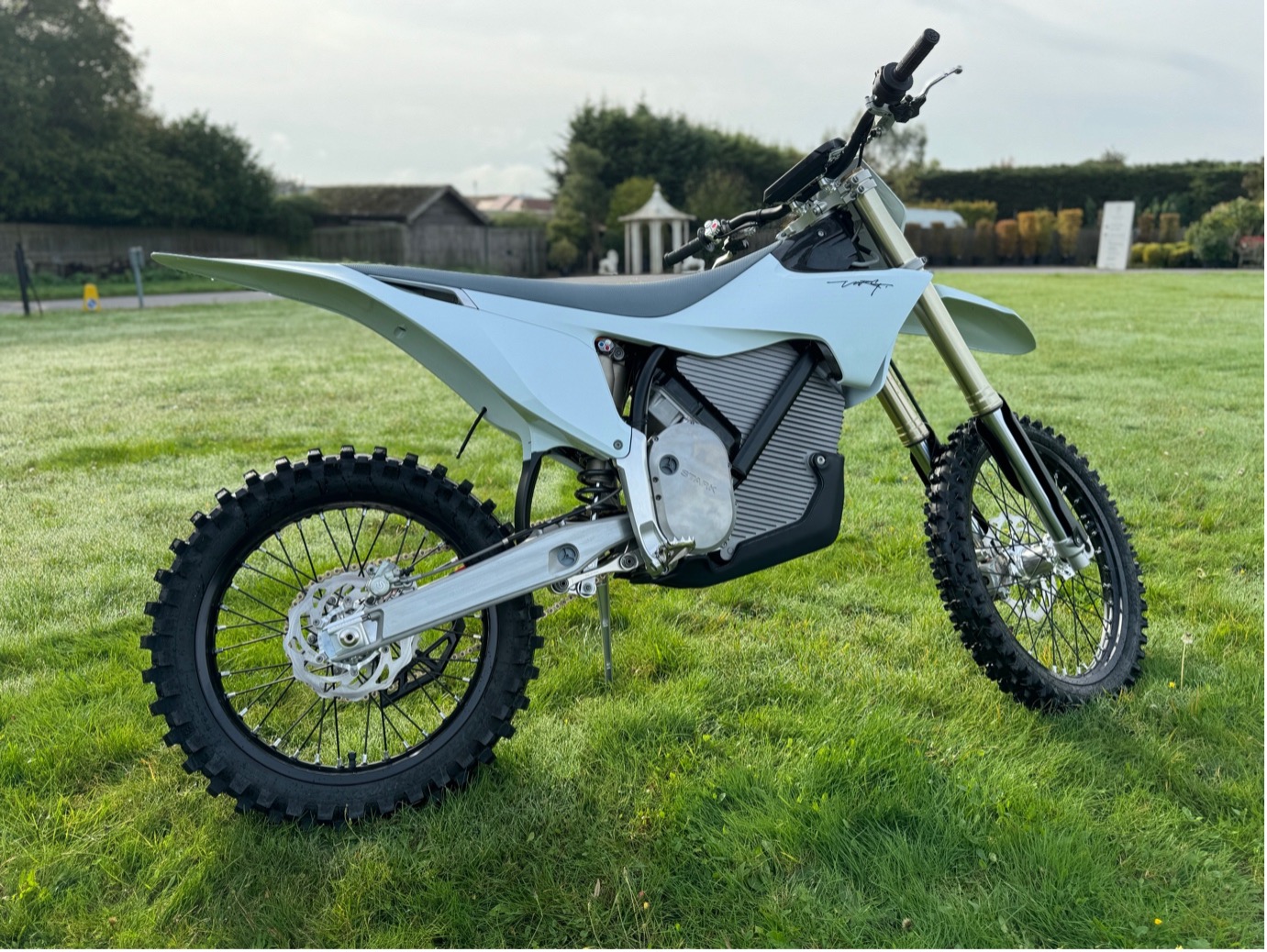 Not only did Stark Future totally re-imagine the off-road motorcycle to create the most accomplished drivetrain and chassis available, they've also transformed the level of control that the rider has over power, torque, engine braking, gyro effect and traction control. Not content with that, Stark Future has also changed the distribution model, but they had no choice.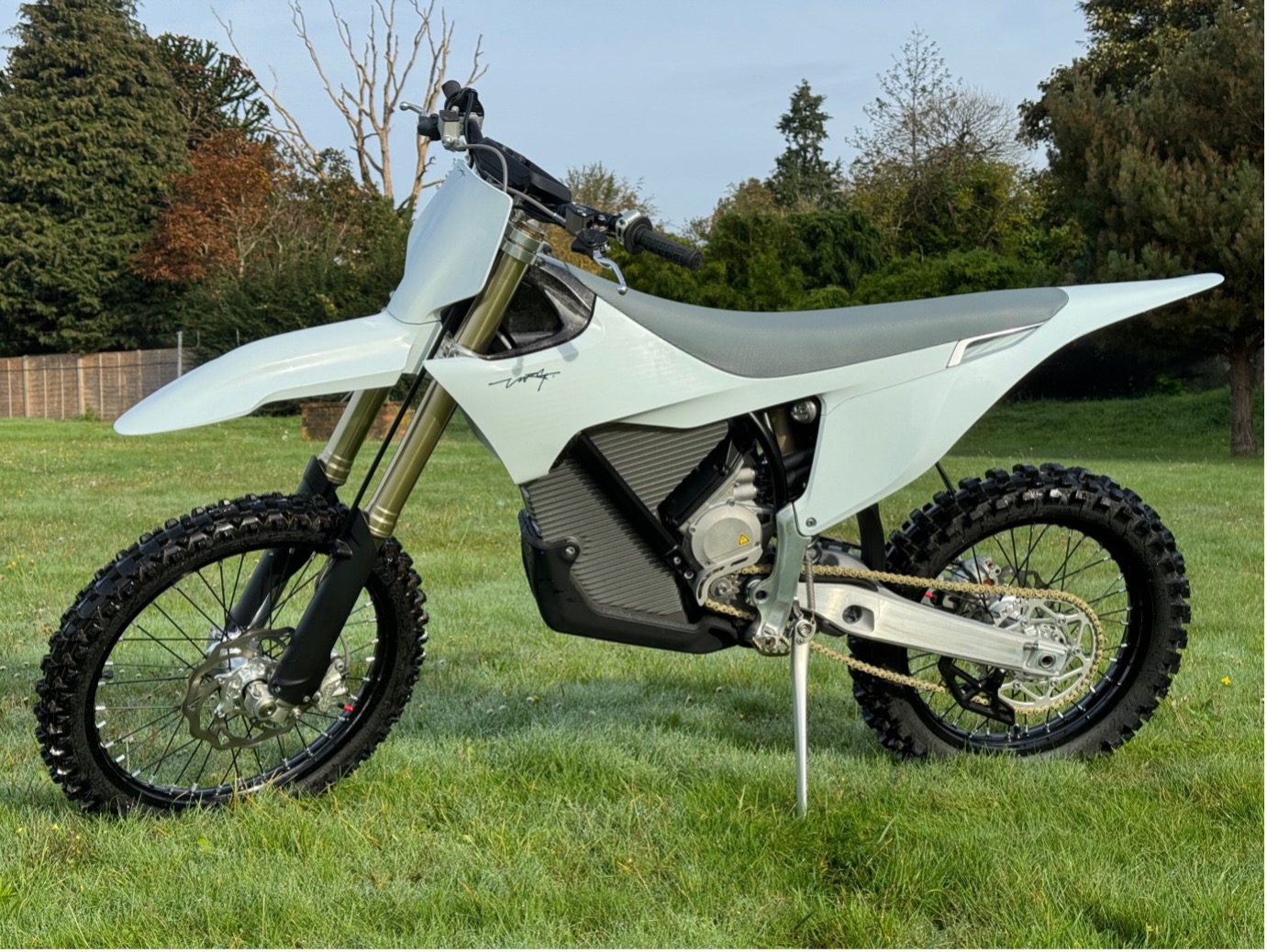 Leading manufacturers of petrol motocross have made one thing very clear to their dealers; if you become a Stark Future dealer we'll terminate your agreement. If you're thinking that Stark has the old guard slightly worried you'd be wrong; they're very worried and watching closely.

Although the Varg can be ordered from authorised dealers, with deliveries typically being fulfilled within 60 days, many customers placed deposits directly with Stark some time ago. These customers are being offered the option of a home delivery, or their Varg can be shipped to a dealer for assembly, PDI and onward delivery. Given that the Varg arrives in a crate of approximately 2m x 1.5m x 0.5m and weighs 150kg, home delivery may not suit everyone.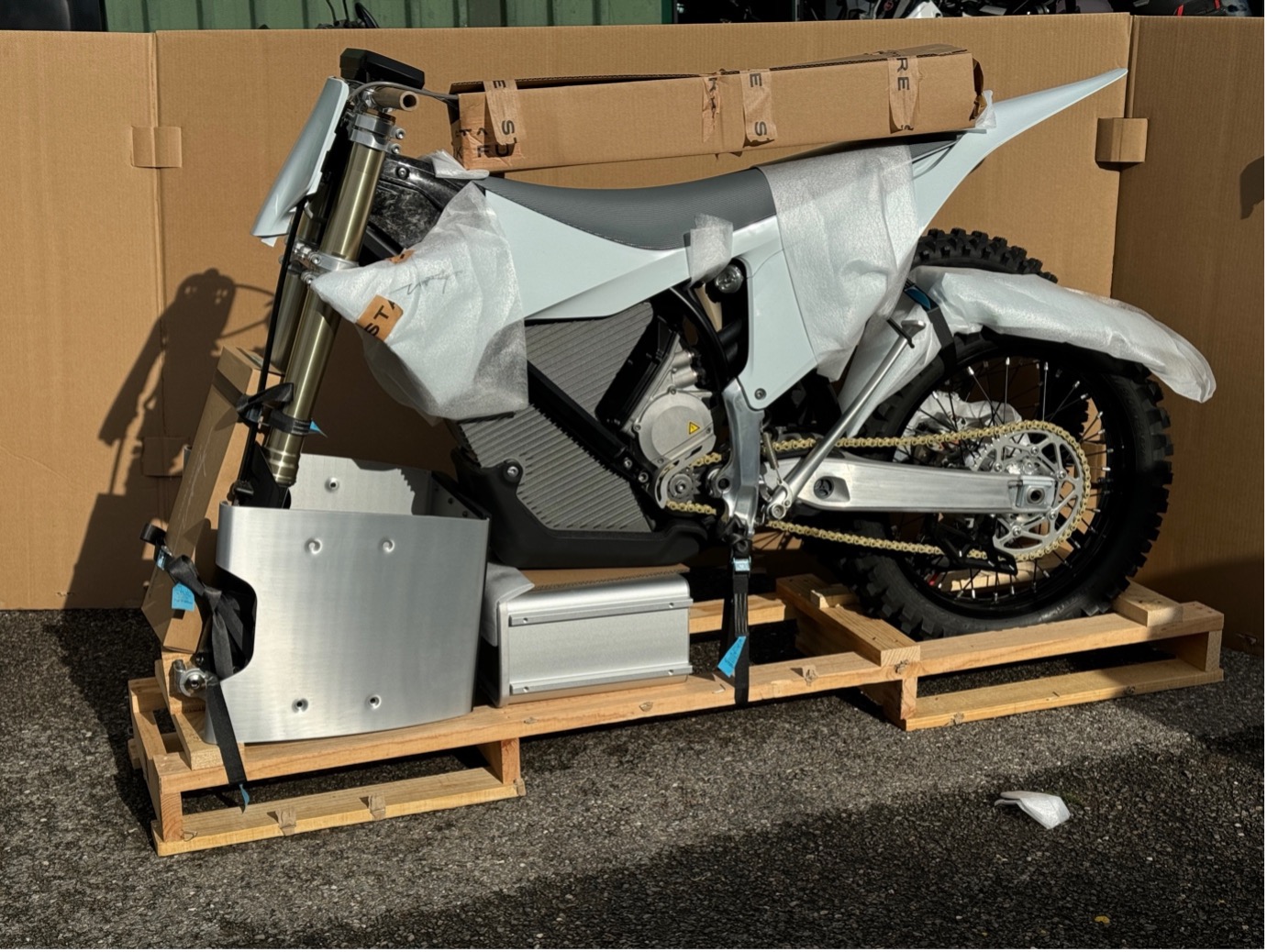 Unpacking and assembling the Varg won't challenge many motocross enthusiasts, as most are quite handy with a socket set and torque wrench, not that it matters if you don't own either. The reason being that Stark have put a beautifully crafted, 19 piece toolkit inside each crate, which comes in a teal coloured steel case embossed with 'Stark Varg' and contains a wooden tray with individual cut-outs for each tool. Amongst these are no less than two torque wrenches, four spanners, a screwdriver, five sockets and various extension bars and adaptors. The whole kit is custom made by Kamasa Tools, who like Stark's founder, Anton Wass, is Swedish. Without doubt, this is the most comprehensive and beautifully presented toolkit that has ever shipped with a motorcycle and it can be purchased separately for £442.90.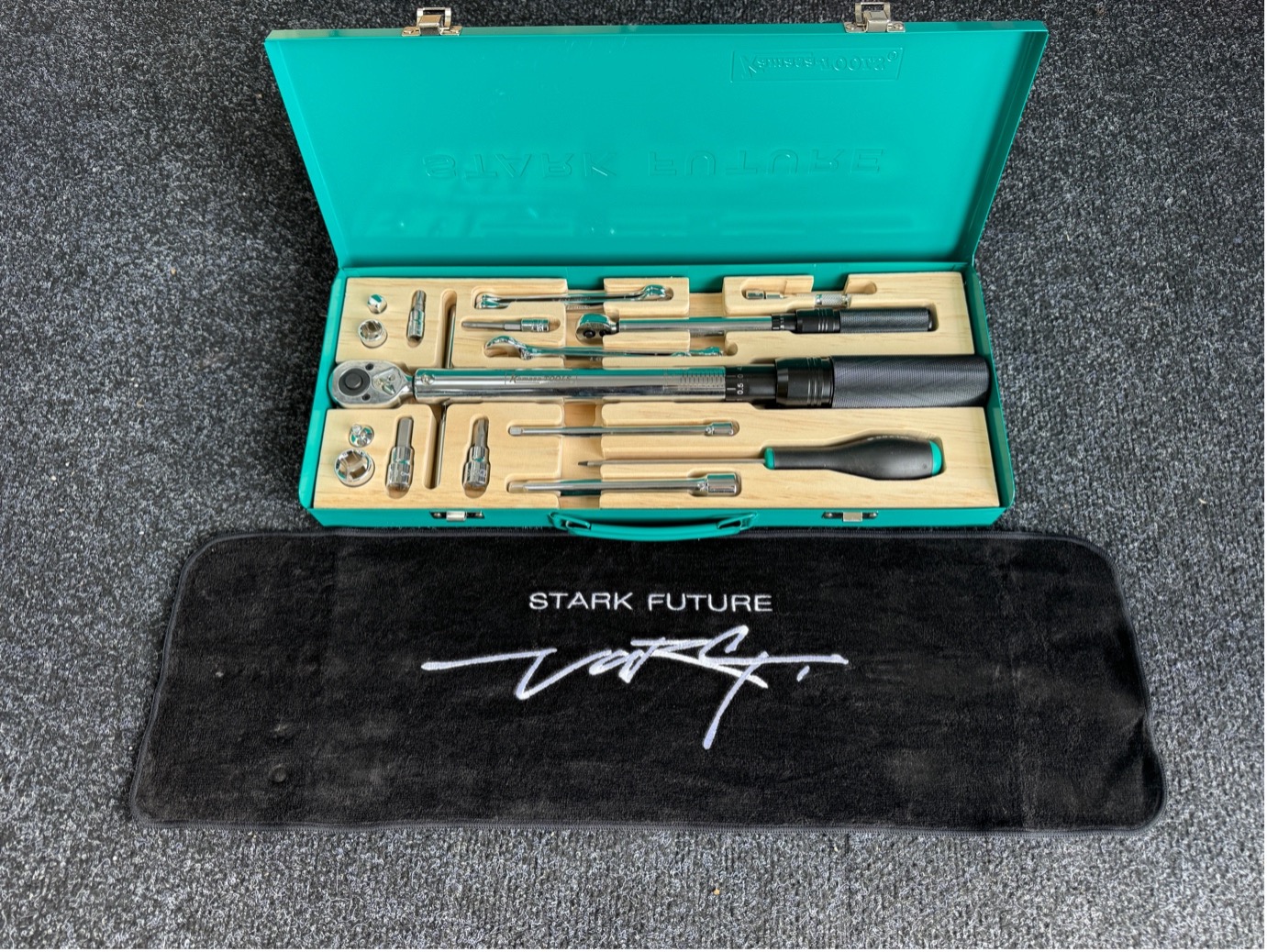 The most comprehensive toolkit supplied with a motorcycle – ever!

Assembly is very straightforward and takes around an hour if you follow Stark's impeccable instructions, which are accessed via a 2D barcode on the side of the crate. Attaching the front wheel, handlebars, throttle, switchgear and the beautifully crafted, stainless steel foot pegs is all that's required.

Commissioning the bike requires the Stark Future Android phone (included) to be powered-up, the pre-installed Stark app to be launched and the customer's login details to be entered. It's worth mentioning that the login details need to be the same as those used to login to Stark's website. After logging-in successfully, the Varg's VIN will appear on the phone and one tap is all that's needed to start the pairing process.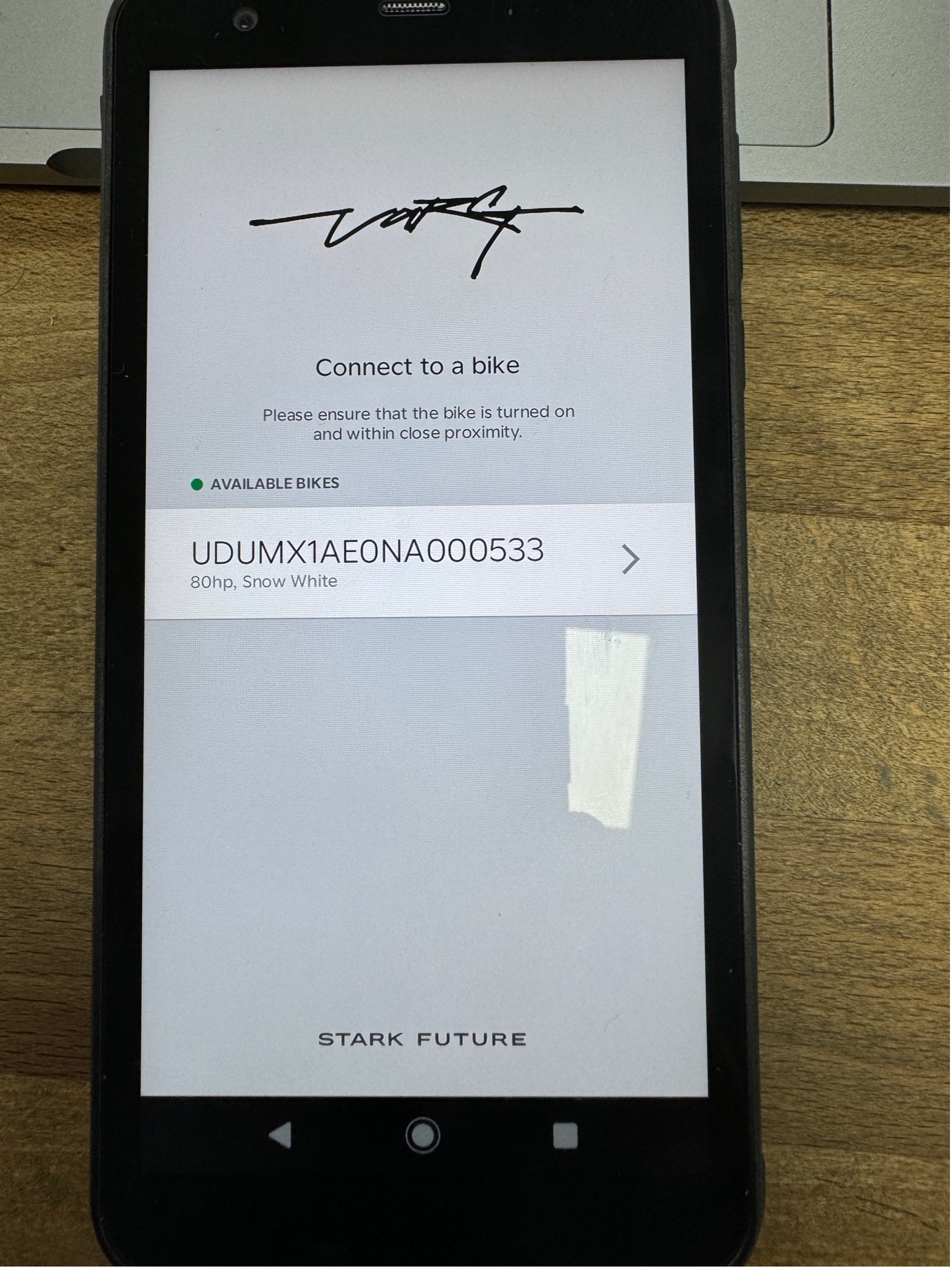 Pairing the Varg to the Stark app on the phone supplied is simple.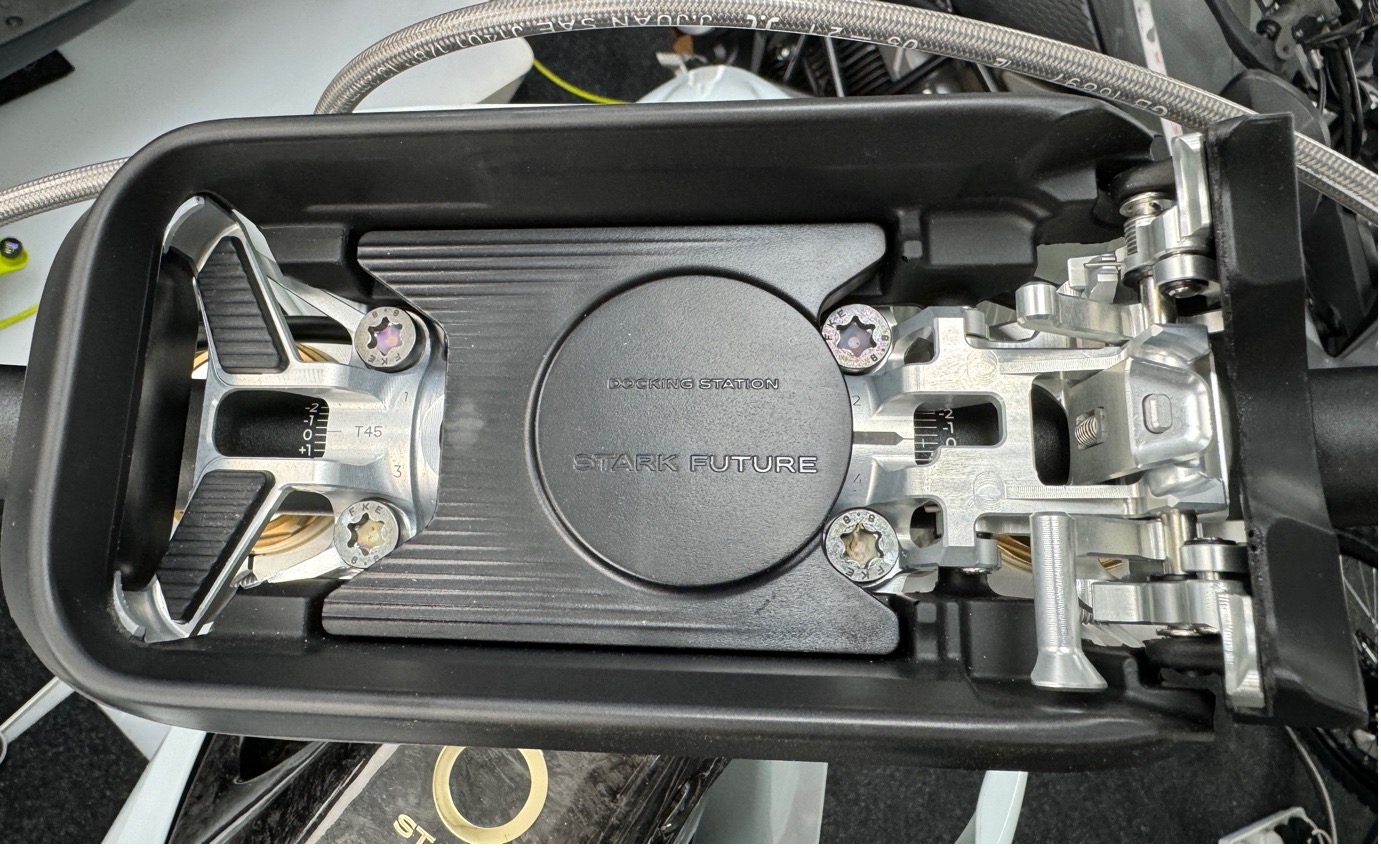 Docking station with wireless charging is a beautifully designed and engineered.

The Stark Phone clips into a beautifully crafted, centrally positioned docking station, which has an intricately machined, aluminium hinge and clip mechanism. The docking station incorporates a wireless charger, which means that all connectivity is maintained entirely without a physical connection. The Stark phone instantly morphs into a touch-screen dash, but switching between the five, pre-set riding modes is controlled by the round, up/down buttons on the left hand, all-aluminium switch cluster. The rider can configure up to 100 performance profiles, with any five being available for selection from the handlebar switches whilst the bike is being ridden.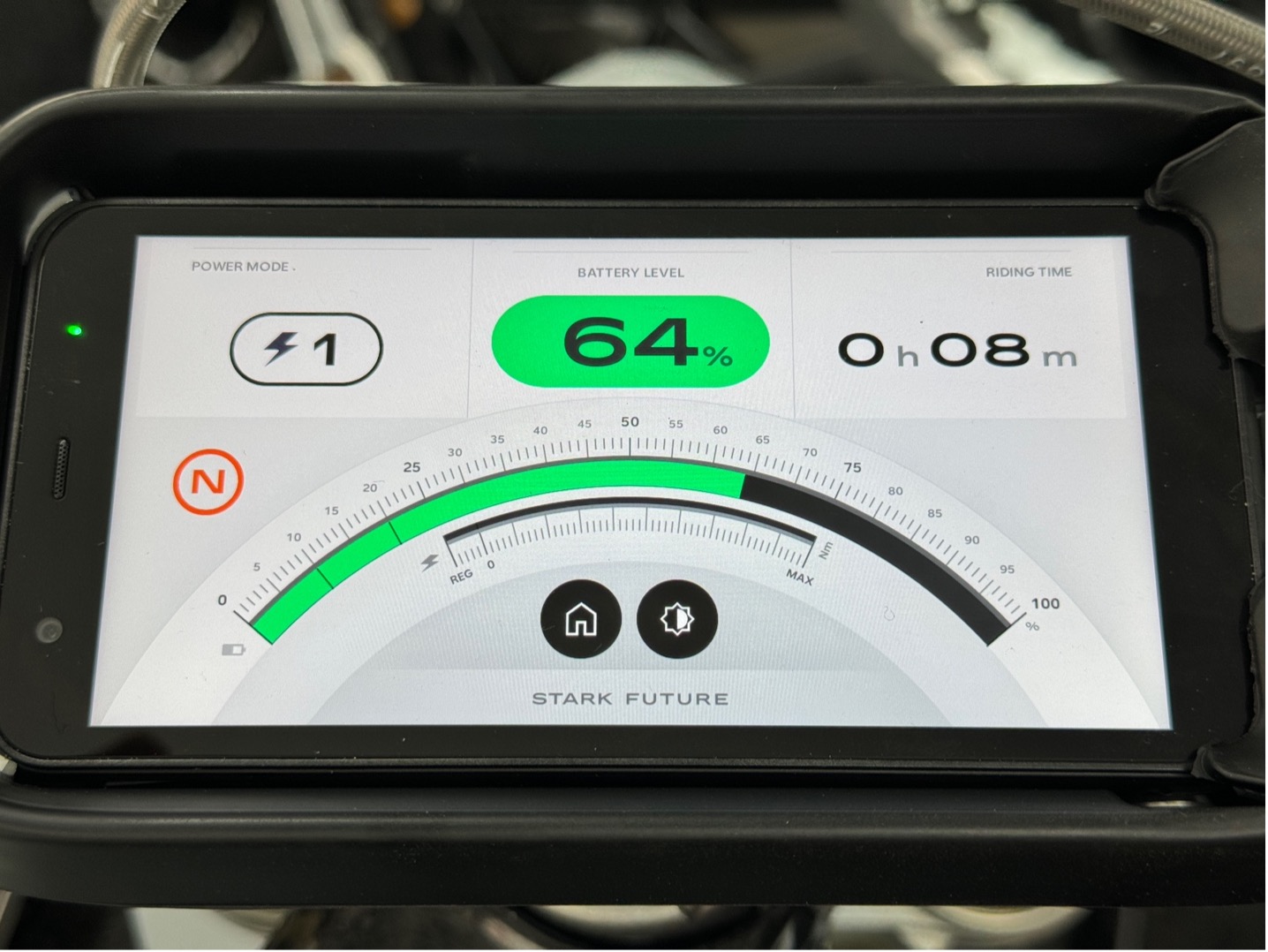 The Stark phone shown in the docking station during charging.

The Varg's class-leading 3.3kW charger is integrated into the bike's aluminium stand. It can fully charge the 6.5 kWh battery (5.7kWh nominal capacity) in under two hours. Typically, a charge will cost around £1.50 and provide a run time of between one and six hours, depending on the selected riding mode and average speed. Charge status is permanently displayed on the dash, including the charge rate, which starts at 10 amps and reduces towards the end of the cycle. Both input and output charging cables are stored inside the charger stand, which has a robust, hinged cover. Spare charger units, without the stand are available at an incredibly reasonable £690.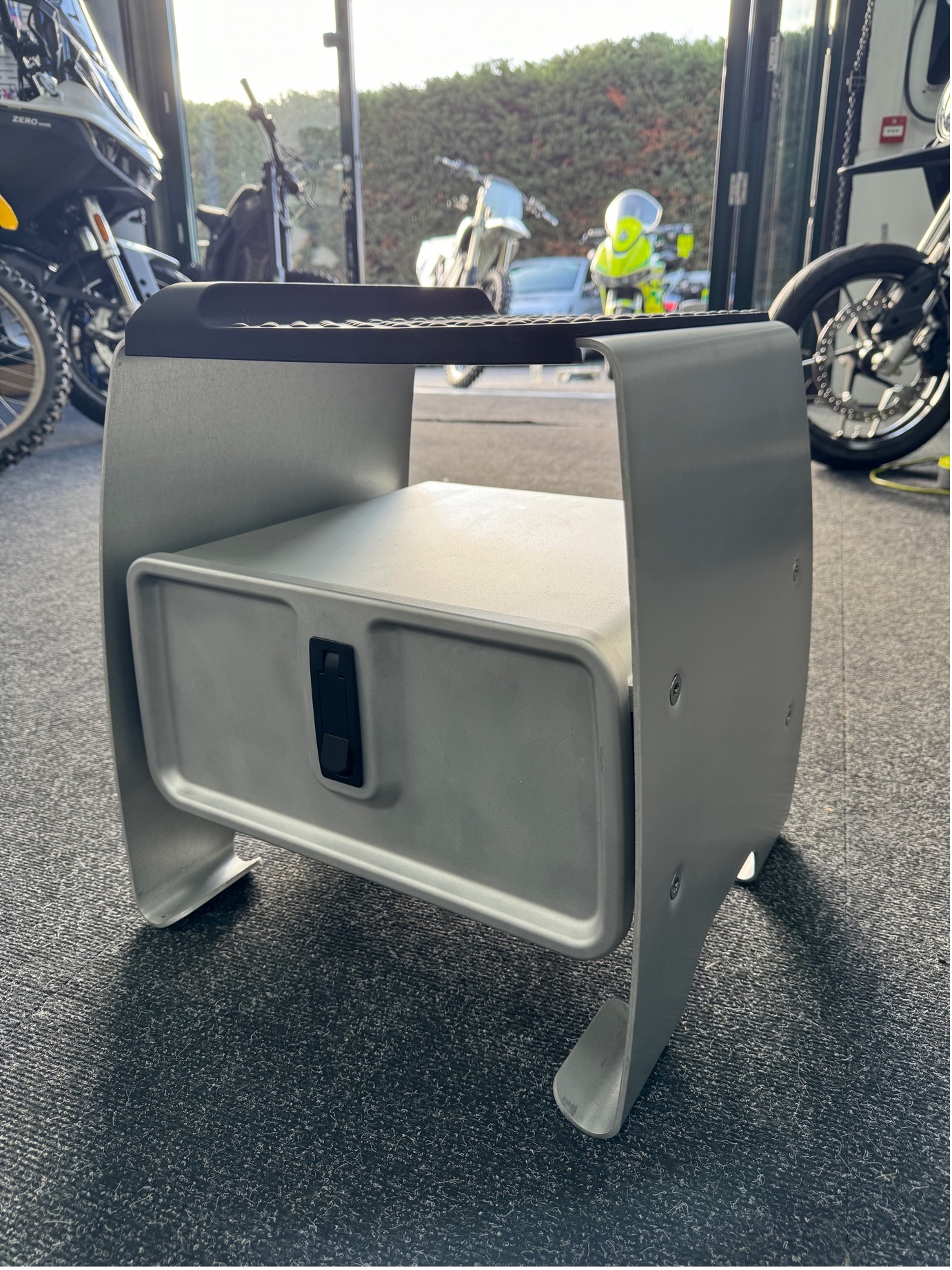 Aluminium stand with integrated 3.3kW charger.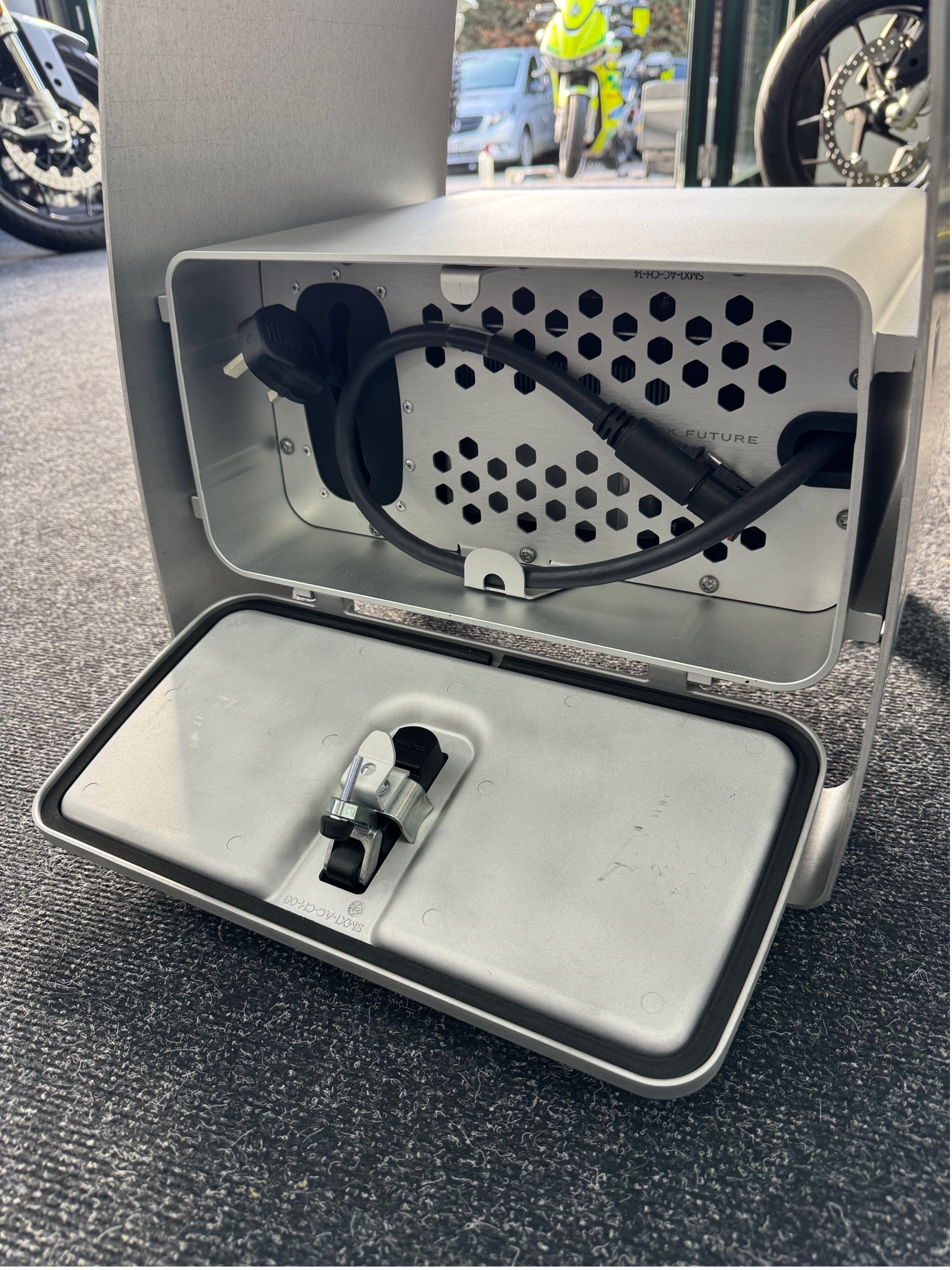 Note the rubber sealed front cover.
Everything about the Varg screams ruthlessly minimalist design and ultra-premium quality. Stark doesn't have to raid an ageing parts bin, so the entire bike looks new, state-of-the-art and totally purposeful. Practically every component has been custom designed and made exclusively for the VARG, which makes it utterly original and authentic.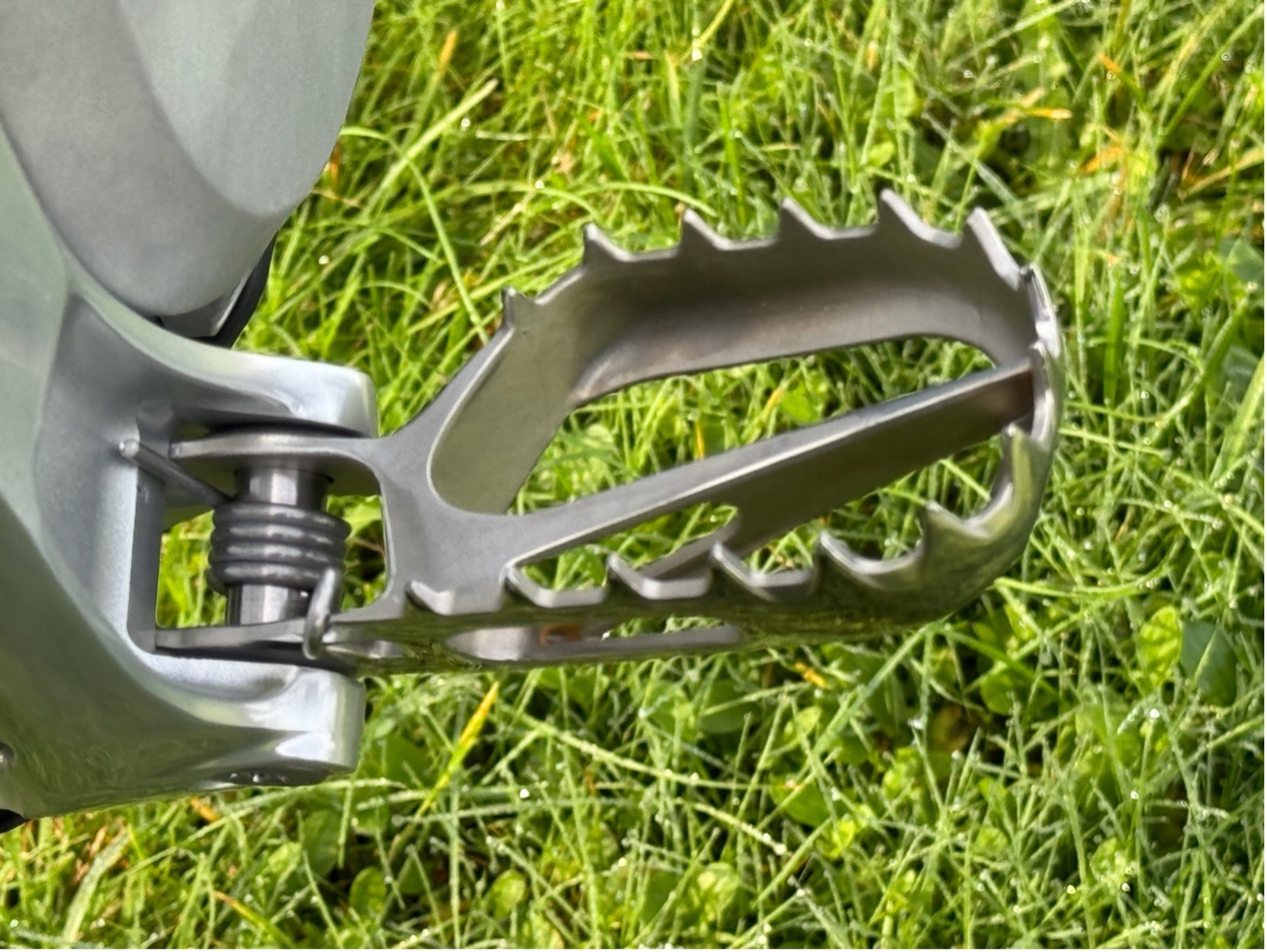 The world's lightest footrest, and the most elegant.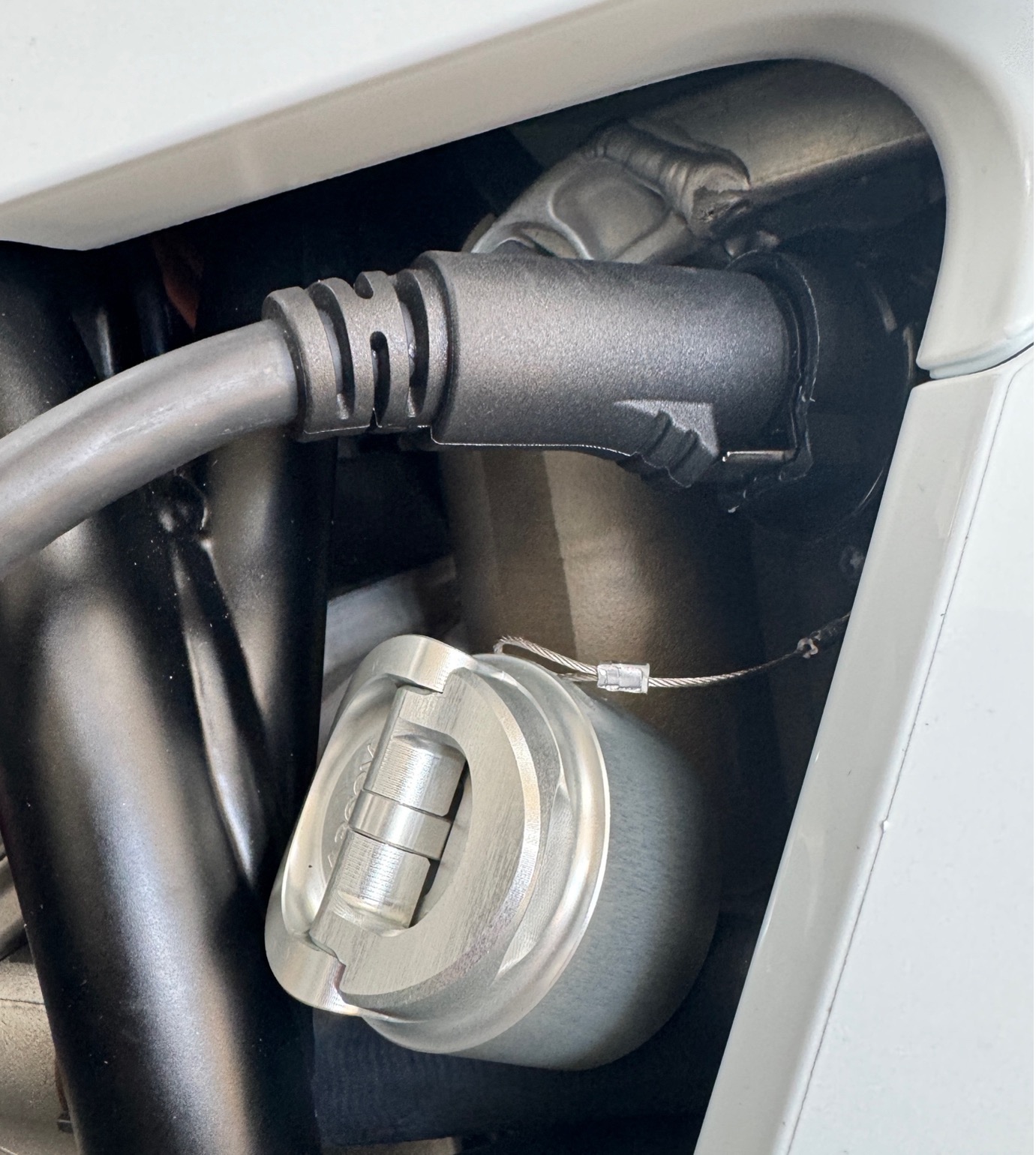 Spun from a single aluminium billet, the waterproof charging port cover epitomises the attention to detail and quality of the entire Varg.
At the heart of the bike is the stressed, magnesium-alloy clad, air-cooled, IP69K rated power pack, operating at an unprecedented nominal 360 volts. Despite its ability to pump 60kW to the liquid cooled controller and motor, the end-mounted cells dissipate heat to the casing which keeps things cool.


Sitting inside the world's lightest motocross frame which weighs under 6kg, is the Varg's custom designed motor which weighs just 9kg and delivers up to 80 HP, that's an insane 9HP per kg. With a total weight of 118kg, the Varg achieves one HP per 1.475 kg. This only tells half the story, as with torque of 938 Nm at the rear wheel and no clutch or gearbox to negotiate, the Varg makes easy work across varying terrains and conditions. With so much power compressed into a single rotation of the ride-by-wire throttle, responsiveness is immediate, which demands precise and measured control.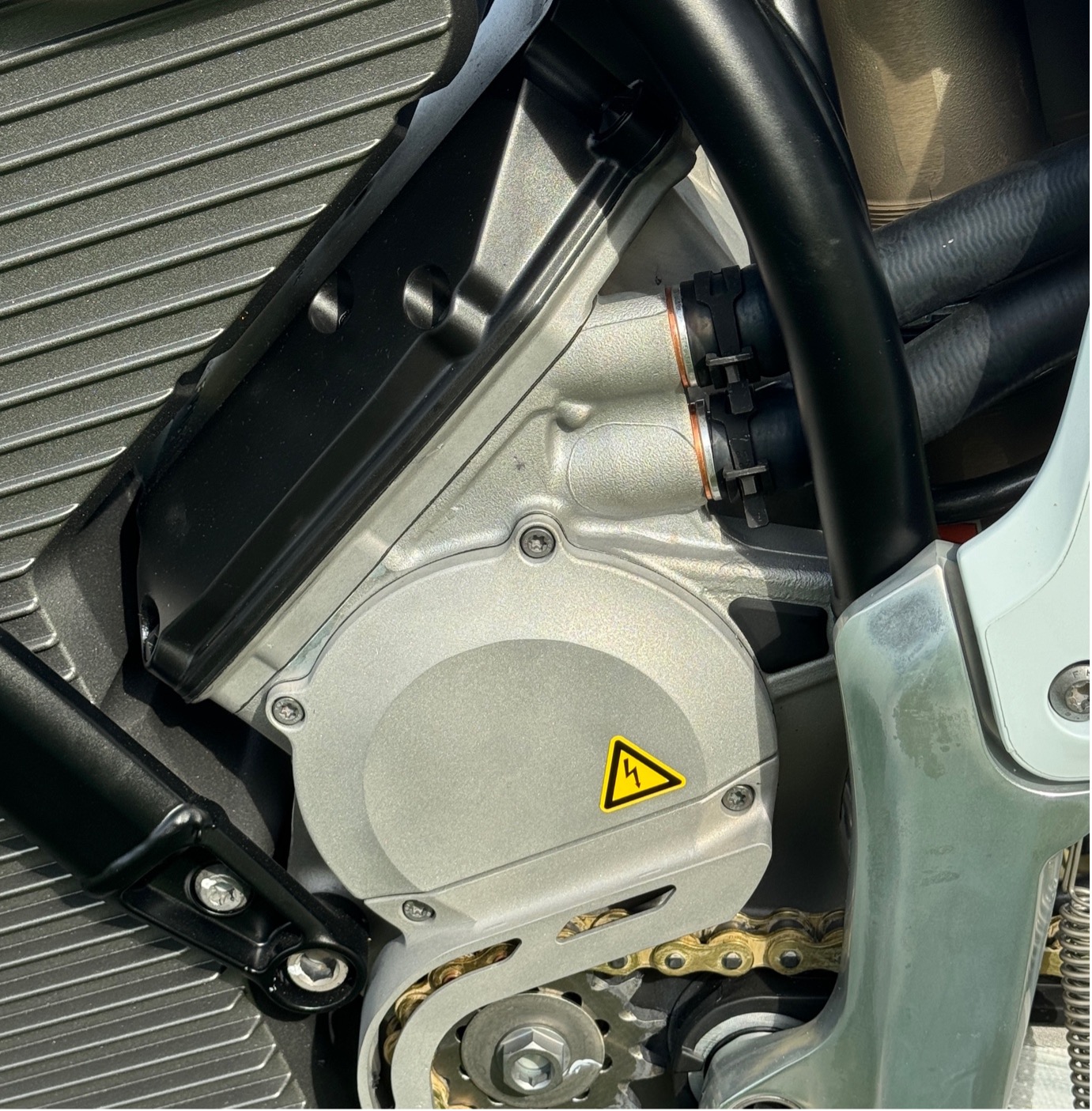 Motor and controller (black box). Note inlet/outlet cooling hoses.

The wheels are equipped with forged and CNC machined hubs made of 6082 T6 aluminium, steel spokes, and rims which are made from aerospace-grade, 7050 T6 aluminium, which offers the greatest strength and corrosion resistance available. Pirelli MX32 tyres are fitted to the Varg with an 80/100-21 at the front and a 110/90-19 at the rear. Brembo callipers grip a 260mm front disc and a 220mm rear disk, which is offered with a choice of a hand or a foot brake.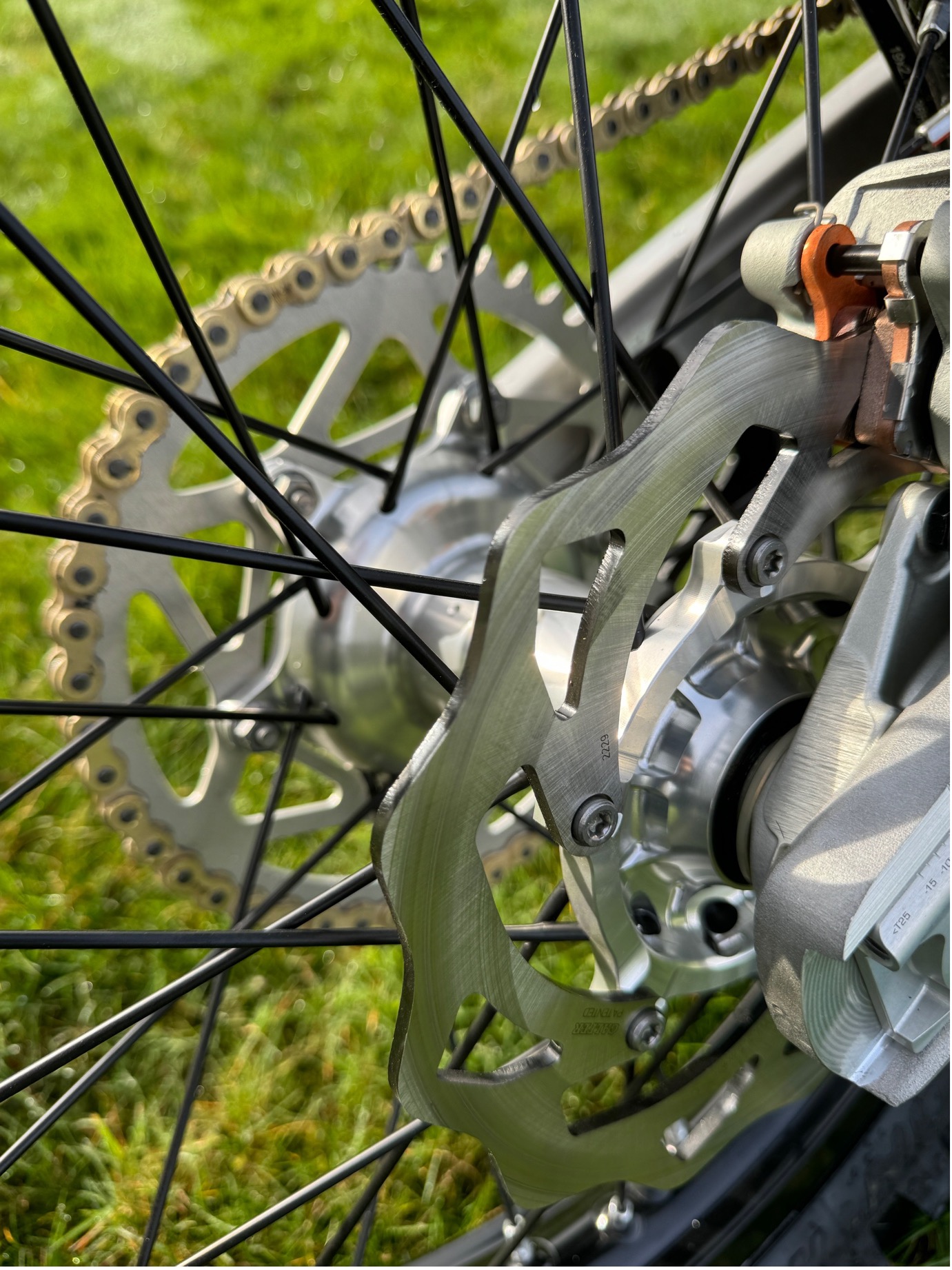 Hubs rims and spokes custom designed and made from the finest materials available.

The fully adjustable 48mm KYB (Kayaba) forks provide 310mm of travel, as does the 50mm rear monoshock. Each bike is factory prepared for the rider's weight to within 5kg, which means that it arrives ready to ride. The forks are secured by custom designed, heavy duty, 7075 T6 forged and CNC machined aluminium triple clamps.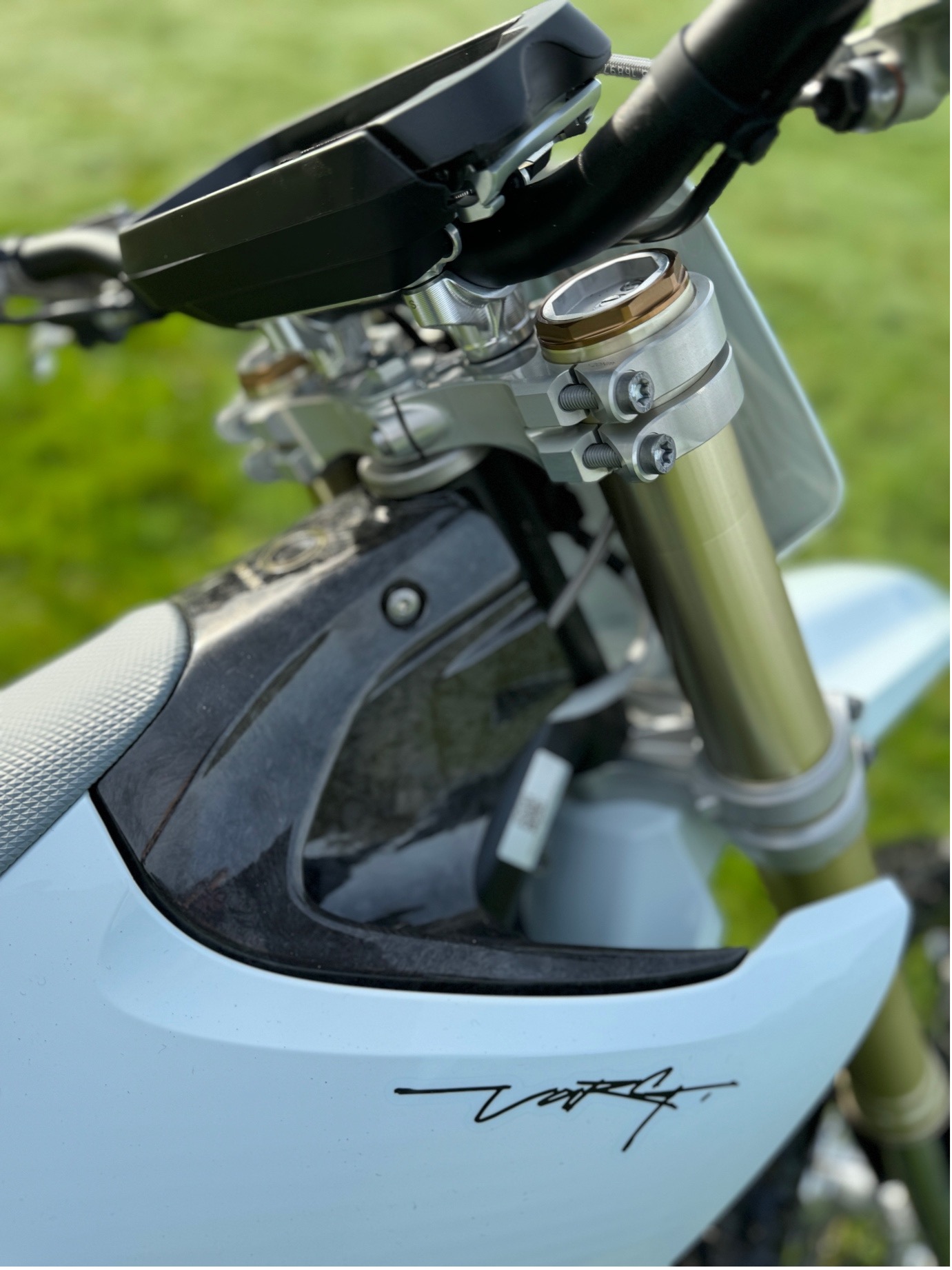 Aside from the choice of rear brake lever position, other options are limited to the Standard 60 HP bike or the 80 HP Alpha, an 18" or 19" rear wheel, a side stand and one of three, flat colours; red, white or grey. Stark has deliberately made the body plastics inexpensive to replace, with a complete body kit available for just £119.90. The front and rear fenders, and the rear spoilers can be bought separately at just £26.90 each and a set of fork covers costs just £22.90. (all prices exclude VAT).

Stark dealers are obliged to carry an ample spares inventory and mechanics will all receive factory training to ensure the highest standard of local support.

On every level the Stark Varg is beyond comparison with all other electric motocross motorcycles - from the design to the chassis, the wheels, the suspension, the motor, the battery and the unparalleled quality. It is stronger, lighter, significantly more powerful and more capable than anything else that exists today. More importantly, the Varg also outclasses petrol motorcycles with respect to its power (30% more than 450cc models), responsiveness, torque, quietness, running costs and low maintenance requirements.
The question is not so much whether the Varg is worth £10,900 (or £11,900 for the Alpha), but how Stark can make a bike of this quality and capability at such a low price. Three things are certain;
Supply will struggle to meet demand

Petrol motocross sales will start to decline
The price of a Varg can only increase
If you have any doubts, just come and try our demonstrator and it will cast them aside. The Stark Varg is the future you can ride today, so book a test ride to experience why.