Sur-Ron Storm Supermoto Road Legal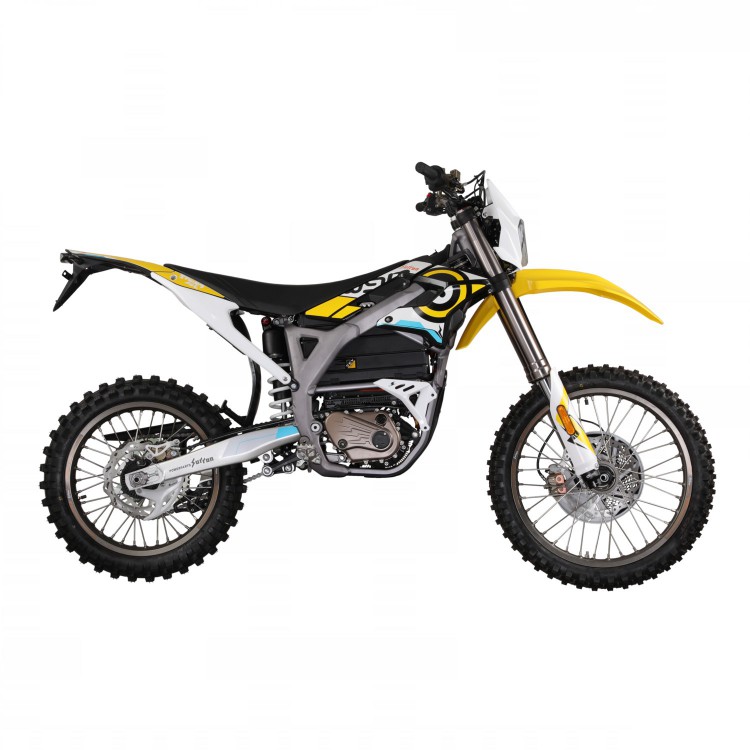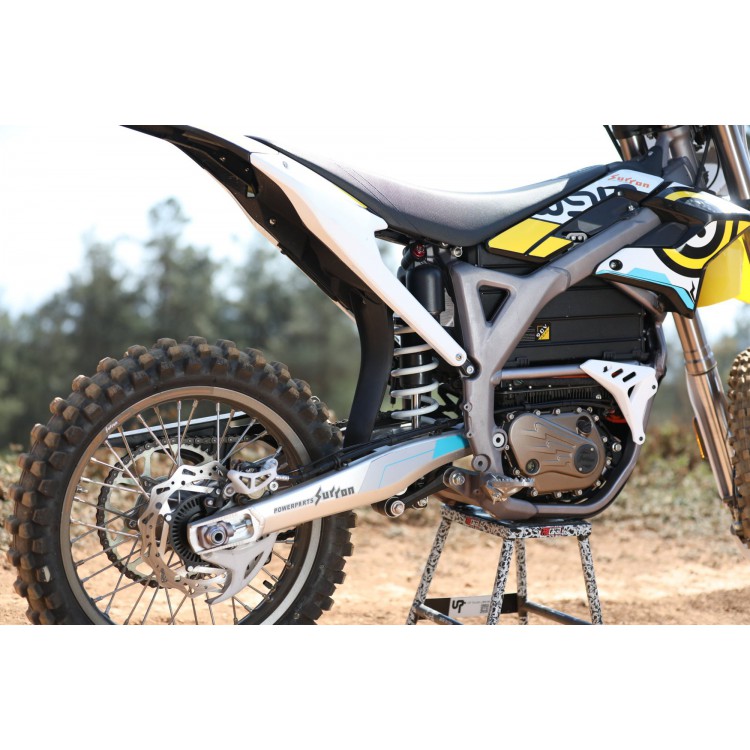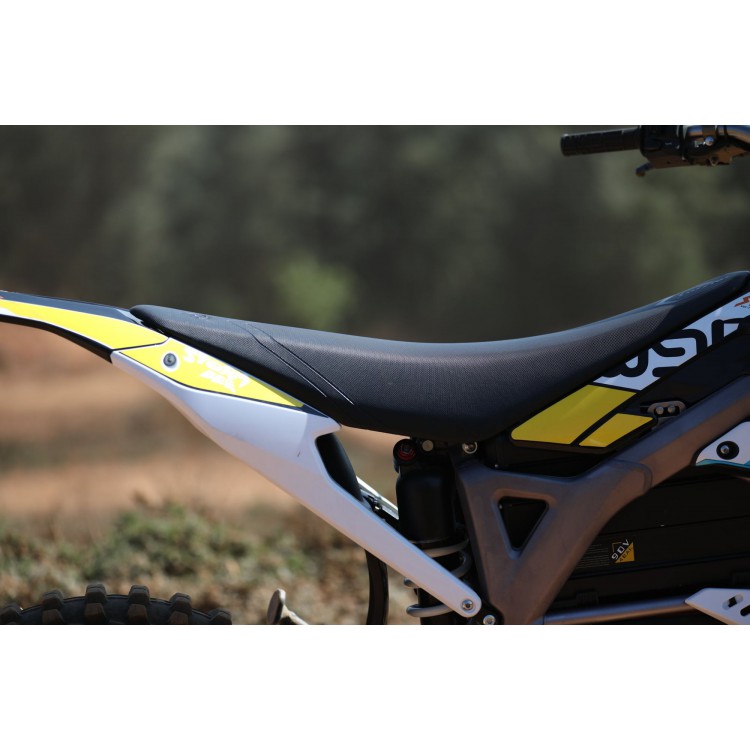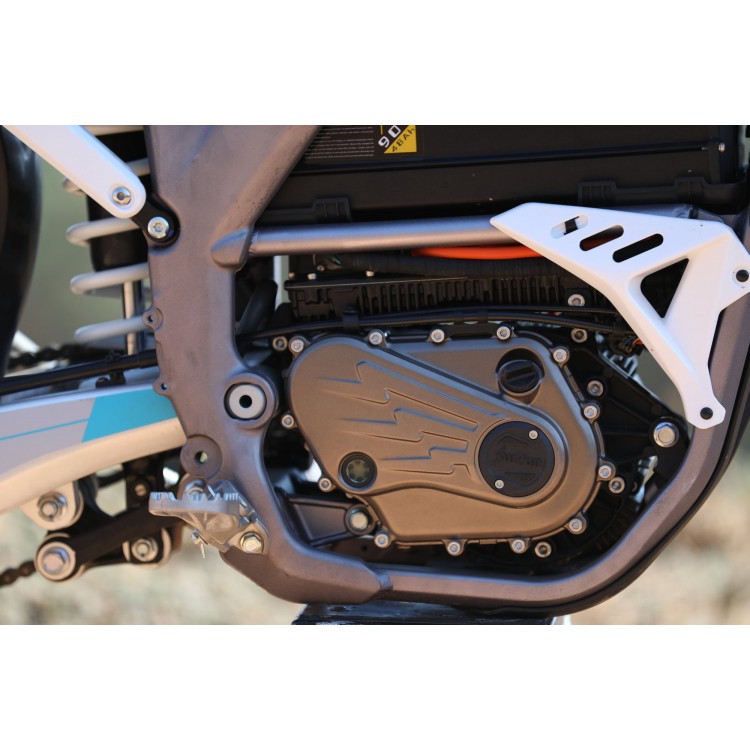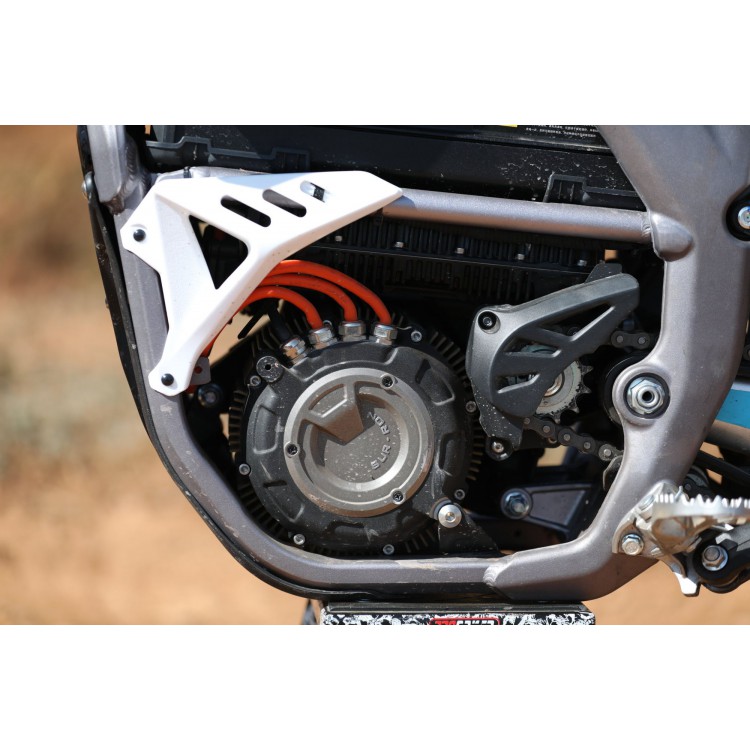 Registered/Delivered in 24 Hours


Power & Performance
Add. Battery Option
-
Battery Capacity
4.3 kWh
Battery Config.
Integrated
Battery Weight
29 kg
Range - City
60 miles
Range - Highway
35 miles
Range - Combined
45 miles
Full Recharge Cost
83p**
Charger type
External 13 Amp
Charger Output
1,000 W
Time to full charge
4 hours
Average Pence/Mile
1.84p**
Equivalent MPG
357
CO2 (off board)
9 g/km
Maximum Power
22.5 kW
Continuous Power
10kW
Maximum Torque
520Nm
Final Drive
Chain
Speed - Restricted
-
Speed - Unrestricted
69 mph
Features
Instruments
LCD
Ignition
Key
Alarm/Immobiliser
-
Riding Modes
4
Traction control
ASR
Wireless
-
Mobile App
-
USB Charging Socket
Yes
Cruise Control
-
Lighting
Headlight
LED
Indicators
LED
Rear/Brake Light
LED
Brakes
System
ABS
Front Disc/Caliper
270 mm/2 piston
Rear Disc/Caliper
240 mm/2 piston
Power Regeneration
Yes
Wheels
Front Tyre
110/80-19
Rear Tyre
140/70-19
Dimensions
Seat Height
950mm
Weight
136 kg
Wheelbase
1430 mm
LxWxH
2075x805x1240
Ground Clearance
315 mm
Wade Depth
-
Warranty
Machine
18m/20k miles
Battery
18m/20k miles
Licence / Insurance
Licence Class
L3E - A1 or CBT licence required
Insurance Group
Get Quote
**
**Based on petrol at £1.42 per litre and electricity at 19p per kWh.
Sur-Ron Storm Supermoto Road Legal
Key Specifications
Price/Speed/Equivalent Cost Per Mile

£8,500.00

(£8,000 after government grant)

Finance not available


69 mph
1.4p
Range
60 miles
35 miles
45 miles
Integrated Battery
4.3 kWh
4 hours
Height/Weight
132 kg
975 mm
Warranty
18m / 20k miles
18m / 20k miles

The long-awaited Storm Bee has now started shipping to appointed dealers and although there are three versions, for the foreseeable future only the road-legal enduro will be coming to the UK. There's also a non road-legal version of the enduro, which is identical, aside from losing the lights and mirrors. Lastly, at some point there may be a road-legal supermoto with smaller wheels and road tyres.
All three versions of the Storm Bee share the same aluminium forged frame, hi-spec drivetrain, advanced electronics package and fully adjustable suspension, which provides 290mm of front fork travel and the same, 290mm of rear wheel travel.
The Brushless DC motor delivers continuous power of 10kW and a peak power of 22.5kW (30 HP) with a maximum torque of 520 Nm. Remarkably, this makes the Storm an A1/CBT compliant bike offering a compelling combination of very rapid acceleration with a top speed of around 70 mph. Quite simply, there is nothing in the petrol 125cc class that comes close to off-road performance and capability of the Storm.
Four riding modes are available; Eco, Rain, Sport and Turbo, plus there's also a very useful reverse mode. A five-way adjustable throttle regeneration feature controls the level of engine braking and progressively increases the amount of energy that's recovered into the battery under deceleration. Lastly, an adjustable, three-level ASR (traction control) is on hand to maintain stability over low-friction surfaces.
The 90v Lithium-ion battery has a capacity of 48 Ah, which equates to 4.3kWh and a nominal capacity of 3.75kWh. This translates to a range of around 40 miles at an average speed of 30 mph. A greater range is achievable when averaging lower speeds.
Both the road-legal enduro and the strictly off-road versions of the bike have a 21" front wheel and an 18" rear wheel fitted with off-road tyres, whilst the road-legal supermoto has a 19" front wheel and a 17" rear wheel, which are fitted with dual-sport tyres.
The 270mm front discs and 240mm rear discs are complemented with heavy-duty, two-piston callipers with ABS offered as standard on both road-legal versions of the bike. These also benefit from an electronic Acceleration Slip Regulation (ASR), whilst the motocross version of the bike has the ABS and ASR deactivated.
The Storm Bee launch sets a new benchmark in the electric off-road sector and the limited supply makes pre-ordering highly advisable. You're welcome to try our demonstrator so click here to book now.
Please note that the Storm Bee range is aimed at experienced riders looking for a competitive, 100% electric motorcycle that delivers significant torque at any speed, with a linear responsiveness that does away with the complexity, weight and demands of a traditional clutch and gearbox. With the Storm Bee you can never stall and you always have optimal acceleration at your fingertips, combined with fully adjustable engine braking.


Price ex VAT: £7,083.33
VAT: £1,416.67
Price Inc VAT: £8,500.00

Grant: -£500.00
Total: £8,000.00

The OTR cost includes PDI, number plate & first registration.
*Only necessary if registering the bike for on-road use.
In Stock:

1

Model:

Storm Enduro Supermoto