Zero vs Energica
13 Feb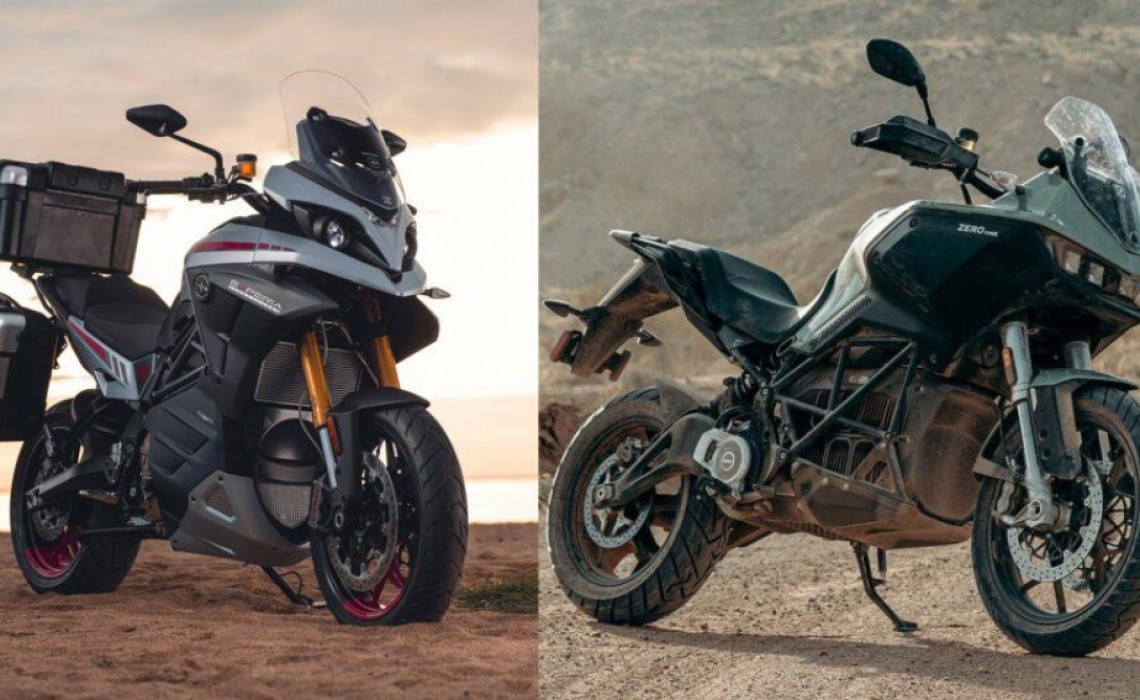 Posted By
8 Comment(s)
4729 View(s)
News
There's no doubt that Zero and Energica are the world's leading manufacturers of electric, enthusiast motorcycles but that's about all these two brands have in common.


History
Zero was established in Santa Cruz, California in 2006, initially making off-road motorcycles under the Electricross brand before launching the S and DS in 2009. The original S/DS aluminium spar chassis remains available to this day, having benefitted from various powertrain upgrades over the years, and from the addition of ABS brakes in 2016. In the same year Zero launched the FXS Supermoto, which at 135 kg is the lightest model in their range, but miraculously all three models sit within the 11kW category, but more on that later.
In 2020 Zero launched the all-new SR/F, followed by the SR/S sports tourer in 2021, the SR in 2022 and the DSR/X adventure bike in 2023. All four models are based on a fixed steel trellis frame, an entirely new ZF 75-10 motor with up to 82 kW peak power and 225 Nm of torque, and traction control courtesy of Bosch MSC.
Energica was established in 2014 in Modena Italy and pioneered the MotoE race series as the official manufacturer from 2019 to 2022. The Ego was launched in 2014 and was followed by the more traditionally styled Eva in 2016. In 2017 the EsseEsse 9 was launched and the Eva Ribelle followed in 2019. In 2018 all Energica's received much needed traction control and in 2019 the Ego and Eva Ribelle received a world leading 21.5kWh battery. RS versions of all models were launched in 2020 with Ego and Eva Ribelle models able to achieve a speed-restricted 150 mph and accelerate from 0-60 in 2.6 seconds. In 2022 Energica announced the Experia, their first adventure bike, with a 22.5kWh battery – the largest ever fitted to a production motorcycle.


Brand Awareness
Historically, Zero has always sold many more bikes than Energica, partly because it has presented itself as a mass market brand (see Inclusivity below). To achieve that
Zero has recruited many more dealers, spent way more marketing dollars and run thousands of customer test ride events. Inevitably this activity has created greater brand awareness, so Energica lags well behind and its slogan 'born to be wind' has clearly lost meaning in its translation.


Platforms and Models
The Zero range covers three different platforms, with a total of nine models spanning all three licence categories: CBT/A1, A2 and A.
For now, Energica has four, A category models based on a single platform.


Inclusivity
At this time only Zero offers bikes in the 11kW category. The S, the DS and the FXE supermoto can all be ridden on a CBT or A1 licence. Zero also has three A2 models, the FX (trail bike), the SR and the DSR. All other Zero models are full A licence bikes i.e. the SR/F, SR/S and DSR/X.
Currently, Energica only makes bikes that require a full A licence, but we hope that will change, maybe as early as 2024.


The Benefit of 11kW models
Zero's FXE, S and DS models are CBT compliant, despite having up to four times the peak power of petrol bikes in the same class. This is possible due to the 11kW limit applying to continuous power but not to peak power. Zero's CBT compliant models adhere to the 11kW continuous power threshold, whilst unleashing up to 44kW (60 HP) during periods of acceleration. This translates to 0-60 mph in around five seconds, whereas petrol 125cc bikes take nearer fifteen seconds. The FXS and the current FXE variant reach 60 mph in nearer four seconds.
Entering the 11kW category would give Energica the best chance of becoming a volume player, which would be of huge benefit to the marketplace.


Motors
Zero uses three motors across its range; the ZF 75-5, ZF 75-7 and ZF 75-10 series. These are all air cooled, three phase permanent magnet motors with torque ranging from 80 ft lb to a world-beating 166 ft lb and 44 to 110 HP at a maximum of 7,000 RPM.

Energica uses different variants of their EMCE water cooled, three phase permanent magnet motor which revs at up to 12,000 RPM, with torque ranging from from 133 ft lb to 164 ft lb and power between 107 HP for the EsseEsse 9 to 169 HP for the Eva Ribelle RS and Ego RS.

The relatively high RPM of the EMCE motor is the reason why a single speed gearbox is used to drive the front sprocket.

Battery Technology
Zero models have 116v battery packs ranging from 7.2kWh to 17.3 kWh. Many Zero models can have an optional 3.6kWh upgrade called a Charge Tank which adds around 20% more range.
All Energica models have 320v lithium polymer battery packs of at least 21.5 kWh. Bigger batteries weigh and cost more but deliver greater range and can release more power.



Charging
Zero models support AC charging only, either from a three-pin plug or from a Type 2 EV charger in the case of the SR, SR/F, SR/S and DSR/X. Zero fits onboard 6.6kW chargers to these models (3kW only to the SR). This translates to a full charge in around two hours, whilst an optional charge tank adds a further 6kW of capacity and reduces the charge time to an hour when connected to any three-phase Type 2 charger.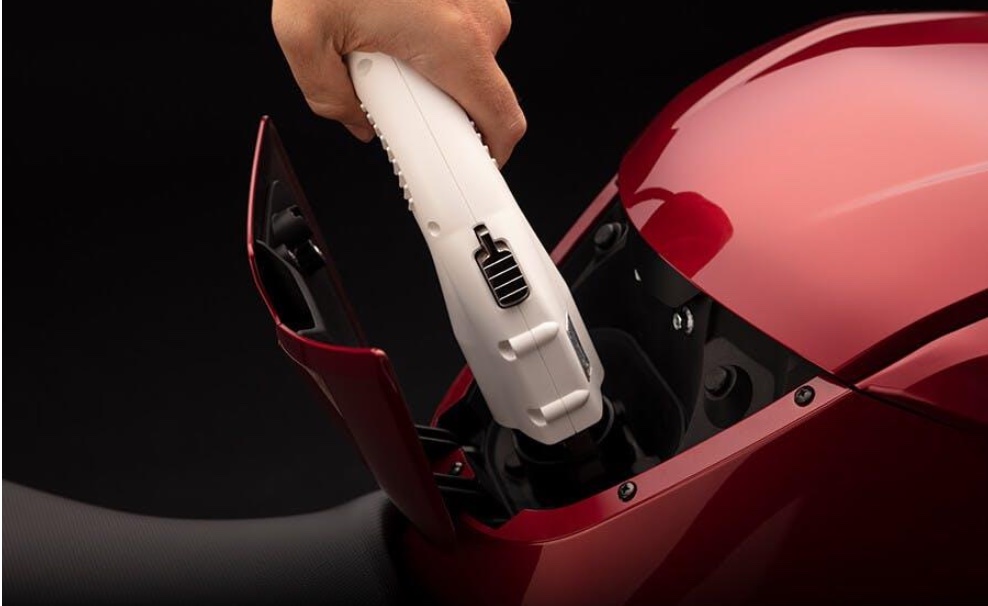 All Energica models support DC fast charging as standard, as well as AC (Type 2) charging at 3.3kW or mains charging at 2.2kW. DC (CCS) charging will deliver a full charge in an hour, thus giving all Energica models a distinct advantage if touring is a key consideration.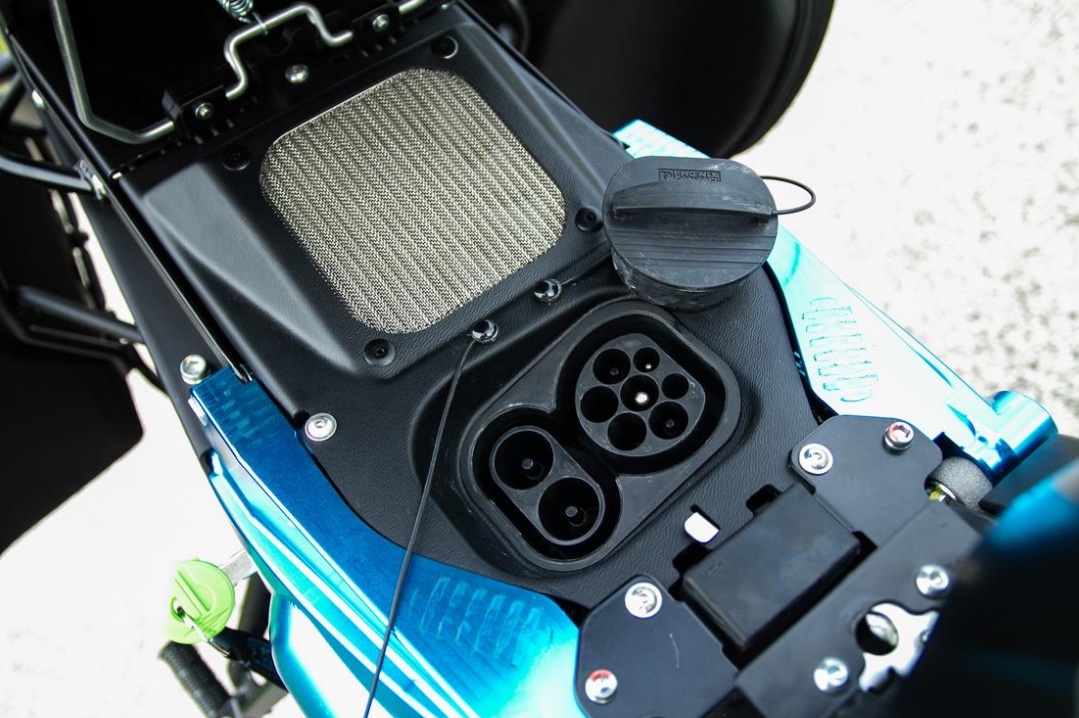 Cooling
All Zero models are air cooled whereas all Energica models have water cooled controllers and motors. This adds weight and complexity but allows components to run continuously at up to 147 HP, which Zeros cannot do. In the real world this isn't likely to be an issue, however, it gives Energica a huge advantage on the track where RS models can achieve 150 mph vs 124 mph for a Zero.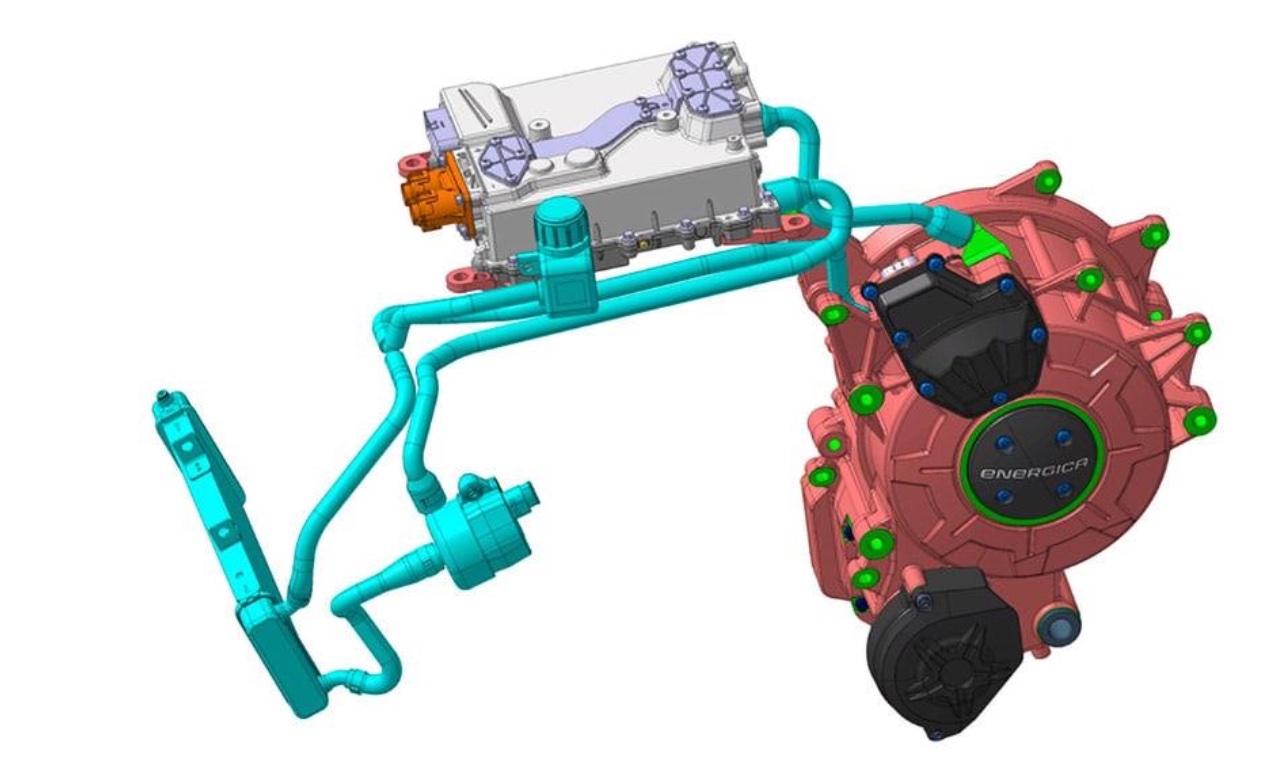 Final Drive
All Zero models are belt driven with the motor spindle directly in line with rear sprocket, whereas the Energica range incorporates a single-speed gearbox which operates a chain final drive. The Zero design is lighter and requires less maintenance but at the limit, a well maintained chain will be more robust, particularly in demanding environments and under extreme loads.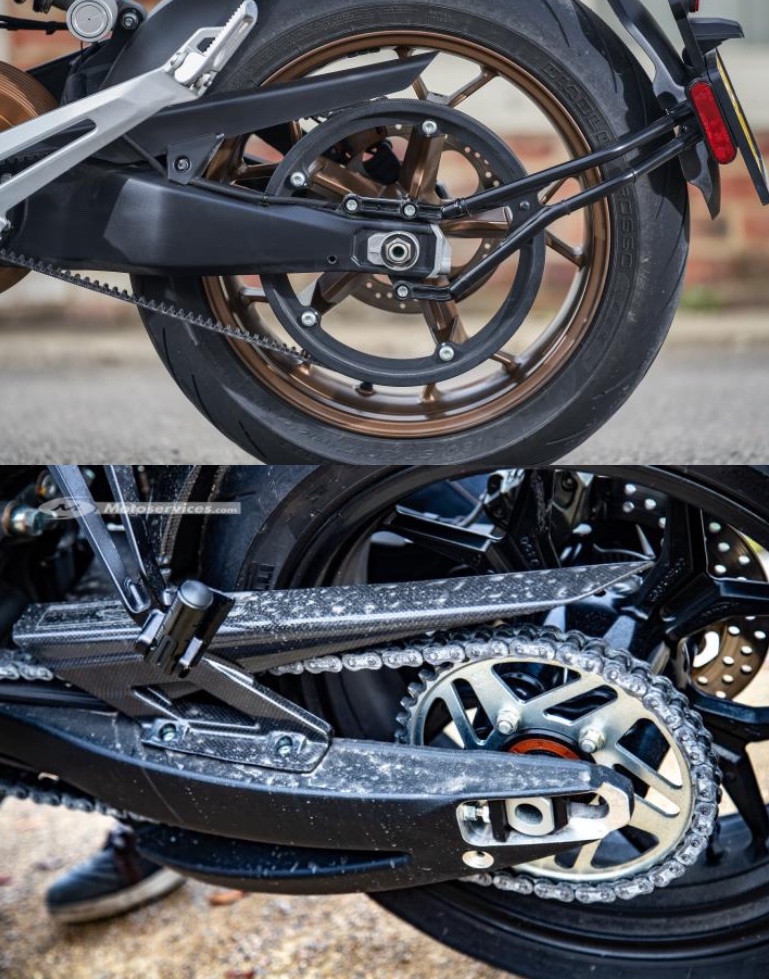 Noise
Zero's lower reving motor combined with its belt final drive results in a quieter ride than Energica's high revving motor, gearbox and chain final drive. However, relative to petrol bikes all Zero and Energica models are very much quieter.


Economy
Zero and Energica motorcycles typically deliver around eight miles per kWh, which equates to the equivalent of around 160 mpg or just over 4p per mile. In urban settings this figure will decrease to below 3p per mile. These figures are based on a unit of electricity costing 35p. Those with off-peak tariffs which typically cost 12p per kWh could benefit from running costs close to 1p per mile.


Build Quality
Both ranges have adopted Italian made steel trellis frames and Bosch MSC for ABS and traction control. Zero uses tried and tested components such as Showa front and rear suspension and J-Juan brakes (owned by Brembo).
The slightly higher price tags across the Energica range are compensated by top quality components such as Brembo master cylinders and callipers, Marzocchi forks and Bitubo rear shocks. Quality under the skin is to the same high standard which translates to solid reliability and good residuals.


Styling
Both Zero and Energica have always adapted quite conventional designs to accommodate their electric architecture, however, Energica has the more eye- catching styling and a greater attention to detail with more colour and upgrade options. This includes suspension components, and carbon fibre wheels and body panels. Ticking all the option boxes on an Energica will undoubtedly create a very special bike, provided that money is no object. Zero doesn't offer its customers quite such an exotic options list, but then again, they don't have Energica's track heritage or potential.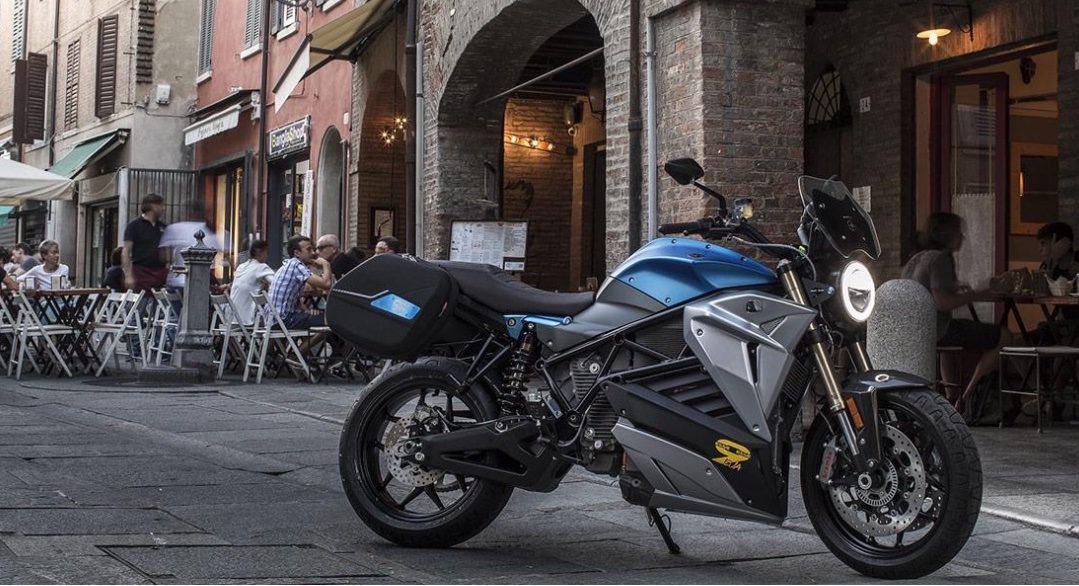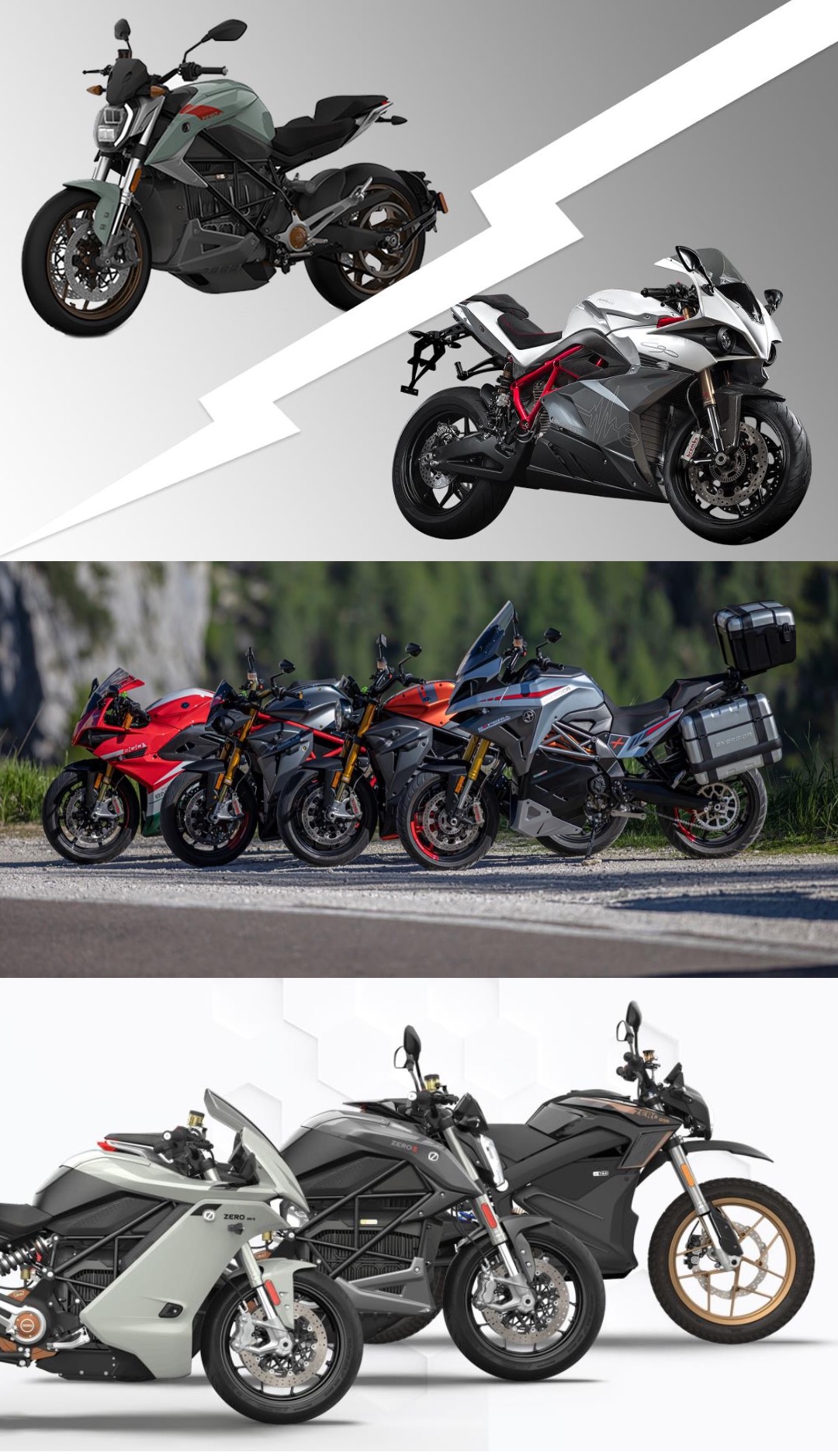 Practicality
Zero has always made practical bikes with commuting in mind. Tank storage is standard across the range (except FX and FXE), frame bars are offered on many models, there's a choice of screens, and rear top and side racks are also widely available. Heated grips are standard across most of the later models, as is a choice of three seat heights.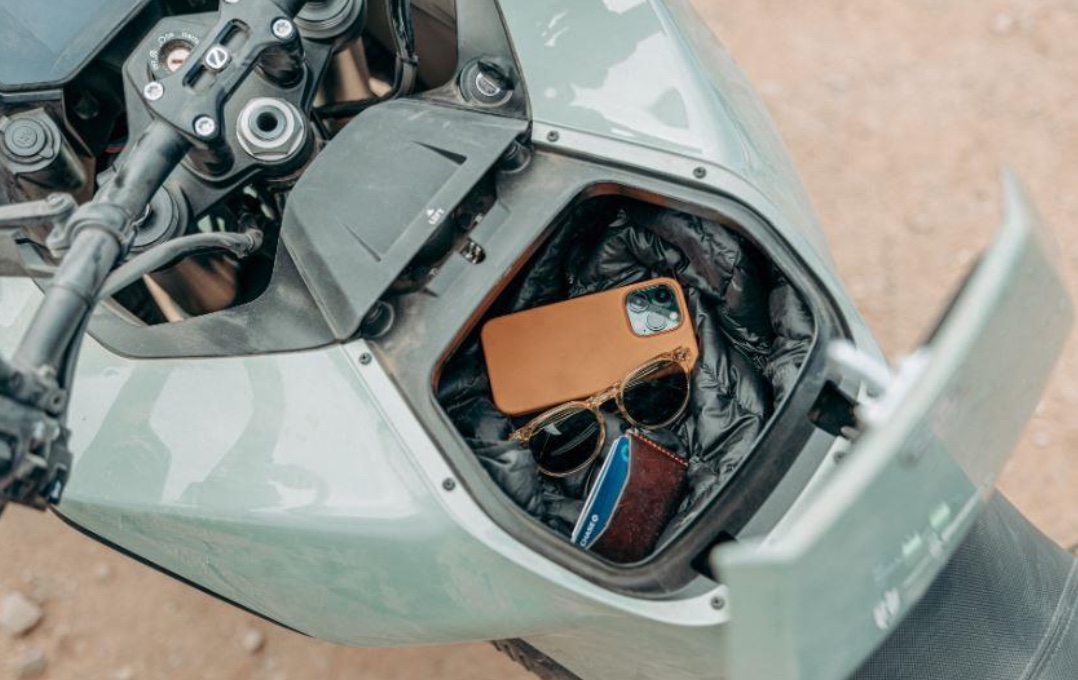 Energica strikes a great balance between outright passion and practicality but with more opportunity for exclusivity. Premium features like heated grips and keyless go are available as options, but luggage is limited to tank bags and panniers, except on the Experia which can be spec'd as a fully dressed adventure bike.
All Energica models and the Zero SR/F, SR/S and DSR/X offer park mode, which is slow-speed forward and reverse. Given that all these bikes weigh over 230 kg this feature makes manoeuvring over gravel or on inclines very easy indeed.
Energicas and Zeros make excellent everyday bikes for those able to afford the best drivetrains ever fitted to a motorcycle chassis.


Maintenance
The only fluid used across the Zero range is for the brakes, whereas Energicas are liquid cooled, hence the additional need for a radiator and a pump, and the gearbox requires oil. Practically speaking the Energica's greater complexity has a low impact on servicing costs as gear oil change intervals are every 18,000 miles and coolant changes are every 28,000 miles. Brake wear across all electric motorcycles tends to be much lower due to adjustable engine braking, which minimises the need for braking ahead of bends and roundabouts.


Environment
Electric motorcycles have a massively lower environmental impact than their petrol counterparts. Firstly, the electric motors fitted to these bikes are around 90% efficient vs around 30% for a petrol engine. With no tailpipe emissions, much less noise and fully adjustable engine braking, these bikes are not only more pleasurable to ride, but they're also a kinder and more considerate way to enjoy motorcycling. With more and more towns and cities introducing Low Emission Zones and emission charges, electric motorcycles are the best way to dodge the congestion and the spiralling costs of motoring.


Parts Availability
Zero has an EU logistics centre in Holland which typically ships parts within 48 hours, although many parts are held by dealers locally. Parts for Energica tend to take longer to arrive and dealer inventories tend to be smaller due to the lower sales volumes of this exclusive brand.


Price Range
Zero's A1 models start at £13,850 and their A licence bikes cost up to £24,150, whereas Energica's range of A licence models cost between £23,690 and £28,290.


Summary
Zero and Energica lead the world of electric enthusiast motorcycles by some considerable margin, but with prices starting at £13,850 and £23,690 respectively, these brands are aimed squarely at discerning buyers who appreciate the superiority of the smooth, seamless and effortless powertrains offered by these brands. Any customer considering a Zero SR/F, SR/S or DSR/X should be taking a very close look at Energica's range, as they offer a class-leading combination of performance, range, DC fast charging and build quality. Energica may not be the best-known electric motorcycle brand, but arguably they make the world's most exclusive electric motorcycles.